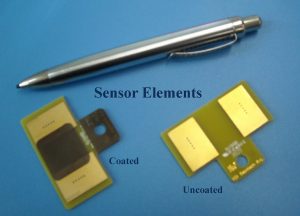 The Saintech Sheet Resistance Monitor (SRM-150) provides in-situ Real Time monitoring of the  sheet resistance of electrically conducting films.
US Patents Pending
The Sheet Resistance Monitor Model SRM-150 has been developed to provide valuable information on the electrical properties of thin electrically conducting films. The SRM-150 is designed to accurately measure the sheet resistance of electrically conducting thin films in real time.
The device uses a sensor head mounted in-situ within the deposition chamber and strategically located to sample the vapor stream. The device uses the 4-point probe technique to accurately determine the sheet resistance of the depositing film material.
Features of the SRM-150
4-point probe method of measurement
6 decades of resistance measurement 200kΩ down to 200 milliohms
Auto-ranging throughout the entire resistance range
Accuracy of measurement 0.5%
Data from the Electronics Module is relayed to a Digital Display Unit or alternately logged to a computer using a special program (optional)
An Embedded Thermocouple monitors the temperature of the substrate during film growth. The sheet resistance can be normalized to room temperature using the (optional) computer program
The Sensor Head
The sensor head incorporates a unique electrode design that uses a replaceable Sensor Element. The sensor element is inserted into a slot provided in the sensor head. Once coated, the sensor element requires replacement. The coated sensor element however, can be used for post-deposition measurements and archiving for quality control purposes.
Construction of the Sensor Head
The sensor head is designed to be ultra-low maintenance and is constructed from materials compatible with UHV applications. The sensor head is manufactured from non-magnetic stainless steel and contains four sets of gold-plated spring contacts for maintaining low contact impedances to the sensor elements.  In the standard format, the head can safely operate at temperatures to a max. 150°C.
Applications of the SRM-150
The SRM-150 provides real-time monitoring of any electrically conducting films such as metal films (Ti, Cr, Ag, Au, etc) transparent electrically conducting films (ITO, etc) – see examples below.
Film Process Studies
Very few thin films behave in an ideal way! The properties of films will often change following deposition and upon venting to air. The data below shows the change in sheet resistance that occurs as a result of venting. Post deposition studies will never show these permanent effects.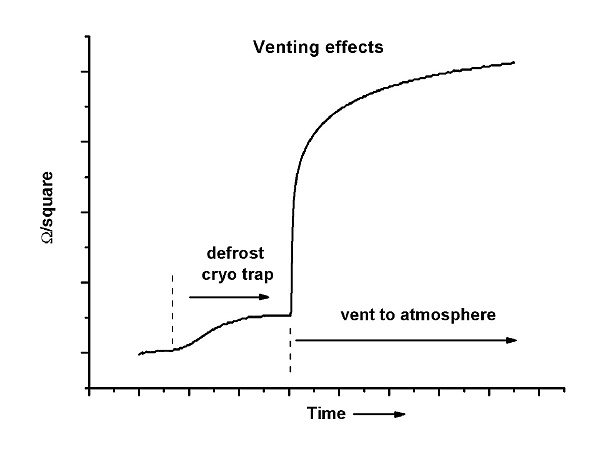 Thermal Properties of Metal Films
The thermal properties of films can be studied either under vacuum conditions or at atmosphere. The data shown in the plot opposite shows the effect on the sheet resistance through a temperature heating and cooling cycle. It is generally observed that the properties of thin metal films seldom behave as bulk materials.