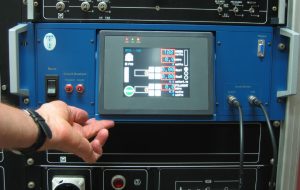 The SainTech ST3000 Ion System has been specially developed to provide an extremely reliable and maintenance-free facility for many applications in physical vapour deposition processes. The compact design and rugged construction allows easy installation to both new and existing vacuum deposition systems.
ST3000 Features:
Ion Beam energies up to 300eV
Ion Beam power to 3.0 kilowatts
Ion Beam currents to 15 amps
Full-time use of high purity oxygen
Optional Features Available
Dual Filament. Electronic system detects filament failure and auto switches to second filament. Refer System Specifications for detail
Dual Gas. This feature provides use of either pure gas delivery or a mixture of two gases in any ratio. Refer System Specification for detail
Mounting Hardware MH. Several options are available. The mounting brackets are clamped to a special gas feed-through. Refer System Specification for detail.